The parish of Saint Thomas Aquinas Canadian Martyrs Halifax welcomes you. There is always someone to extend a helping hand to persons renewing their relationship with the Lord and the Church. People wishing to speak to a priest will always be received with compassion and understanding and a desire to extend any assistance. Part of our Christian calling is always to help each other in the journey of faith. We pray that "STACM" will always be the place that people can call home and have a strong sense of belonging to our Church Family.
Wishing Everyone a Blessed Easter from the staff of STACM
Please note there will not be a 7:30 a.m. Mass at Canadian Martyrs on Easter Monday, April 21st. Mass on Fridays will now be at 9 a.m. at St. Thomas Aquinas Church,
starting on April 25th.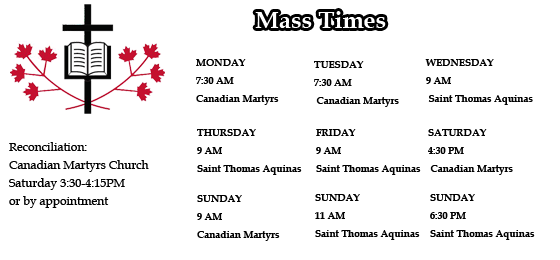 We offer many programs that help us grow in our Catholic Faith and facilitate the New Evangelization Use our website to see the current offering of programs and information on registration, you may also register for our online bulletin, or view our calendar of events.